Join the world literature tour to Portugal
We're back in Europe this time round, and we need your help in setting the itinerary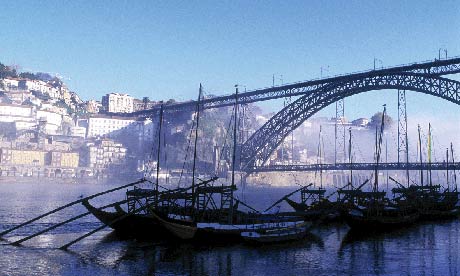 Australia proved a popular destination for the world literature tour but after almost two months sunning ourselves down under, it's time to move on. First, though, a recap of the delights under discussion.
The big Aussie names flagged up again and again were Helen Garner ("pretty fabulous", says ozzygirl), Tim Winton, David Malouf, Peter Carey, Thomas Keneally and Clive James, with Coetzee also claimed as Australian after making his home in the country.
The Booker-shortlisted A Fraction of the Whole by Steve Toltz also picked up a few mentions – "an enthralling read, even if it's not quite as intelligent as it thinks it is," said davesoul.
Patrick White, however, split opinions, "a Tolstoy and Dostoevsky in one" for LeoToadstool and "the greatest Australian writer, hands down" for solidmandala, but "beyond tedious" for devojka and "a thoroughly unsatisfactory experience" for Lowfields.
Randolph Stow found a number of champions, while Dorothy Porter's The Monkey Mask, a lesbian detective novel written in verse which has become a cult classic, says msmary, sounds like a lot of fun.
Teejaykay had some great recommendations for life stories from western Australia's indigenous people, the Nyungar, while ozzygirl said that some of the most interesting recent writing has been by Aboriginal writers, citing Sally Morgan's My Place, Kim Scott's novels, Alexis Wright's Carpentaria and Wandering Girl by Glenyse Ward.
Bloggers grappled with a googly thrown by BillyMills who asked what differentiates Australian writing from other English-language literatures, and how its geography, "with that ever-present semi-uninhabited landmass and a fringe of 'civilisation'", informs its fiction and poetry. pepp believes that Australian writers have "laid themselves out in the land around them. Desert, outback, skyscraper, shoreline, one can hear the birdsong, the wind, the silence of Australia throughout it all. The happiness, the bastardry, the peculiar colour, even the scent comes through." Good answer.
There were a few suggestions about where to go next with Portugal getting two votes (thank you BillyMills and wordnerd7) and Egypt three – although as one of those was Richard Lea we're going to disallow it and go for Portugal.
There are some big names there, from Nobel prize winner José Saramago to José Maria Eça de Queirós, but I'd say Portuguese writing has a lower profile than Spanish (where you came up with a sterling bunch of recommendations a year ago). Please let me know what I'm missing.

And do please remember to vote on the next destination – where we go is up to you.